High Quality Dumpster Rental Gulfport MS
Looking for a way to dispose of waste? No problem, Dirty Works has the solution can take care of the job with a dumpster rental Gulfport MS can rely on. Being a veteran-owned company, we are the #1 place for a localdumpster rental in Gulfport. You can rent dumpsters in Gulfport MS at an affordable price with us! We are the most trusted and high-quality dumpster rental in Gulfport MS. Dirty Works is Gulfport's residents and business owners' top choice for all waste management needs involving dumpster rentals. No project size is too big or small for us to handle. Our high-quality options for a dumpster rental Gulfport MS not only offer effective ways to dispose of trash with such little effort, but without breaking the bank either.

With various sizes to offer, we can take care of any job you may have. It's not just about renting any dumpster, it's about having reliable containers customers can rely on to accommodate all its residential, commercial, and construction site needs. Booking your dumpster rental Gulfport MS has never been easier with Dirty Works. We offer various rental lengths and delivery options, tips to load your dumpster efficiently and easy scheduling to accommodate you. Those are only a few of the things that make us the local favorite choice for a dumpster service Gulfport MS locals trust daily in Harrison County.
Offering the Perfect Dumpster Rental Gulfport Projects Need

Make your trash disposal easy in Gulfport, Mississippi with the perfect sized dumpster rental Gulfport project sites need. We offer a Gulfport roll off dumpster rentals that make your waste management for any occasion an easy process. Our roll off dumpsters come in various sizes with easy access to make your waste disposal project a smooth task. A lot of people believe that their occasion may be considered "too small" for a dumpster rental Gulfport, but here at Dirty Works, that is never the case. We guarantee we have the perfect solution to your Gulfport dumpster needs.

The reason our customers rely on us is because of our amazing dumpsters and affordable prices. They know that we are the go-to companybecause we never let them down. Here you will never receive a broken-down rust bucket container with holes in it, gates that won't swing open, or just something that will be an eye sore at your location while using. Never worry about that with Dirty Works because we go above and beyond to ensure you have the best dumpster rental service in all of Gulfport, MS.

When renting your roll off dumpster, you won't have to worry about a thing. We take pride in the fact that our employees value your time and ensure that your delivery process will be on time, every time. Our professional drivers take great care in your property when dropping and loading to not cause any undue damage to driveways or yards. We have options for every type of project whether it's a residential clean out to construction sites for wasted material to commercial businesses with garbage needs.

Gulfport Residential Dumpster Rental

Cleaning out your house to make room for new furniture or items? Dirty Works is the perfect place for everything related to a Gulfport residential dumpster rental. Owning a home is stressful enough but having all that unwanted clutter or spring cleaning to do that is just piling up can be a bare. There is a solution without having to stick it by the curb and hope your local garbage collection service picks it up or going to the local dump and that is a residential dumpster rental Gulfport.

Yard clean up, furniture removal, demolition and renovation, it doesn't matter! You name it, and we have the perfect trash dumpster Gulfport for you. Give us a call and let's talk about your project and what would be the perfect solution for you.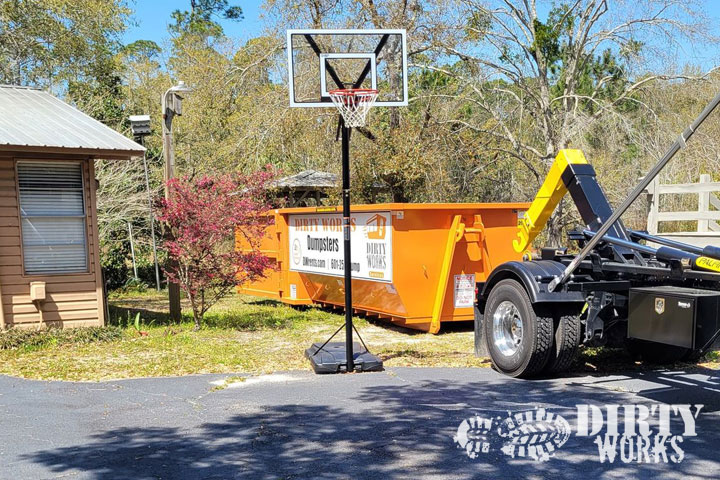 They are great because we have smaller sizes available to accommodate just about any sized project for the everyday homeowner or DIYer. We know projects around the house just seem to accumulate an awful lot of trash so might as well have somewhere to dispose of it, right in your driveway! Let the folks at Dirty Works bring you a Gulfport MS residential dumpster rental. Making your life easier one residential dumpster rental Gulfport MS local trust at their homes, one day at a time.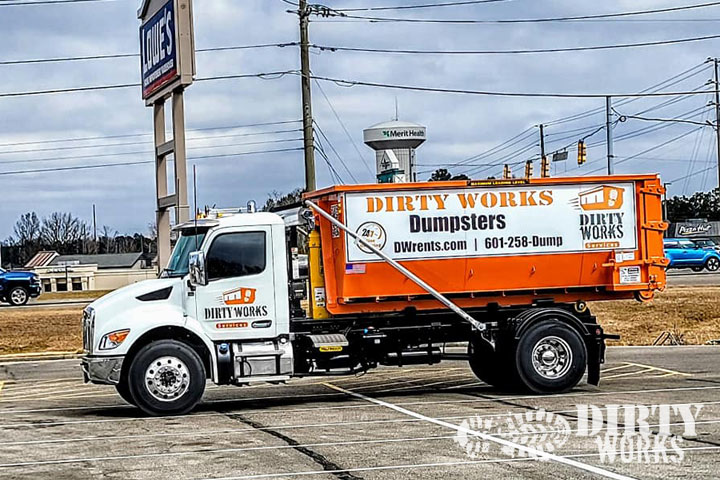 Gulfport Construction Dumpster Rental

A local go-to source for all the general contractors, home builders, and heavy construction companies in the area for everything related to a Gulfport construction dumpster rental service. With options available to accommodate just about any sized construction project or job site, we have been the local trusted place for a Gulfport MS construction site dumpster rental. Every construction site has so much material waste, garbage, and trash laying around so why not have a way to keep the work site clean to prevent any unnecessary injuries from slips and falls.

We provide various sizes for your project to ensure that you have just the right size for your scope of work. Our diversity of dumpsters for rent and our commitment to quality service is what makes us the #1 source for a Gulfport MS dumpster.

A construction dumpster rental Gulfport MS can help relieve some of that stress of the foreman and superintendents knowing they have a secure way to dispose of the waste. Just give us a call and we can come swap out your roll off container for a fresh one or haul it away if you're done. It's that easy. No need to shop around, our team can be your next local provider for a Gulfport MS construction dumpster rental.

Commercial Garbage Dumpster Gulfport MS

Every business in Harrison County has trash to dispose off so why not get a commercial garbage dumpster Gulfport MS knows they can rely on from the guys at Dirty Works. They have been providing a quality service to businesses all over the area for years. Anything and everything related to trash, we can accommodate with a garbage dumpster Gulfport. We offer short term and long-term options as well as same day services for a Gulfport MS garbage dumpster. No need to stress when it comes to getting rid of the daily trash at your location. Just give us a call to talk about your needs and find a solution to handle that for you. We promise you that you won't be disappointed with our company for a Gulfport garbage dumpster.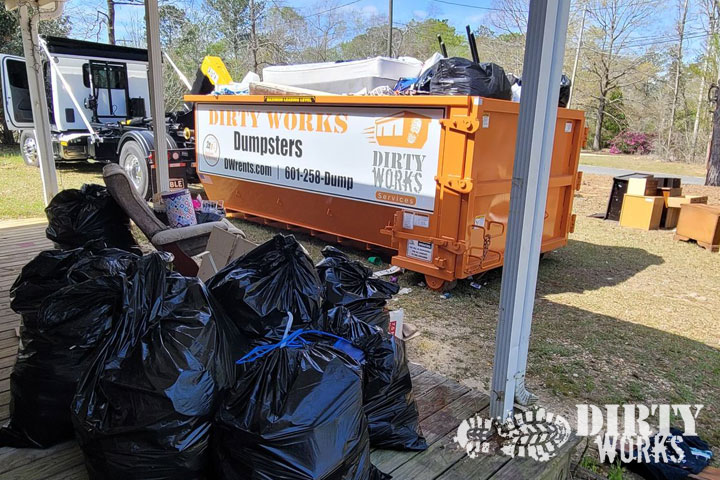 Choosing the Right Size Gulfport Roll Off Dumpster Rental

Choosing the right size Gulfport roll off dumpster rental is important to ensure your project can be completed with ease. We offer a 15 yard dumpster that holds up to 6x pickup truck loads and a 20 yard dumpster that holds up to 8x pickup truck loads. These roll off dumpsters Gulfport are perfect for the average clean-up to remodeling projects to large scale construction sites. There is no need to look any further because we offer the best dumpster rentals in Gulfport MS. Estimate your debris to find the perfect size dumpster rental for your needs. Don't worry if you underestimate, we can empty it and bring it back to you for additional rental fees.

Part of our success as being the best regarding Gulfport MS dumpster companies is the fact that we dedicate ourselves to helping our customers find exactly what they need. With that being said, if you don't know what size dumpster rental you need, have no fear because we are here to help. We offer a friendly but professional customer service which means you can give us a call at any time, and we can help you estimate the perfect size roll off dumpster Gulfport for your project. There's a reason our customers don't think twice when calling us for a Gulfport roll off dumpster rental.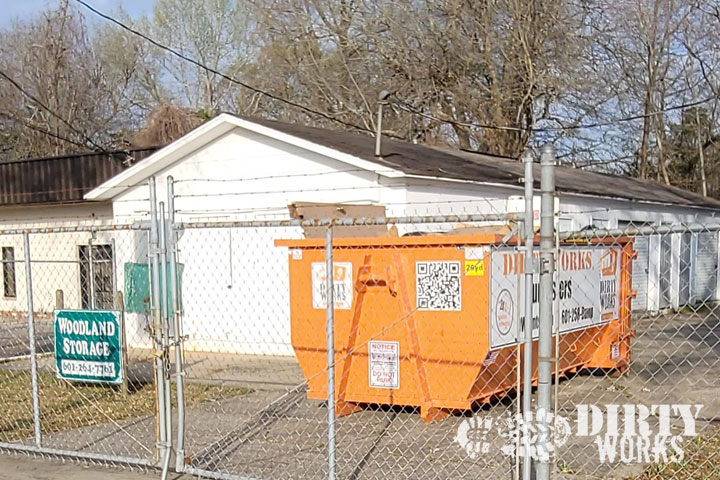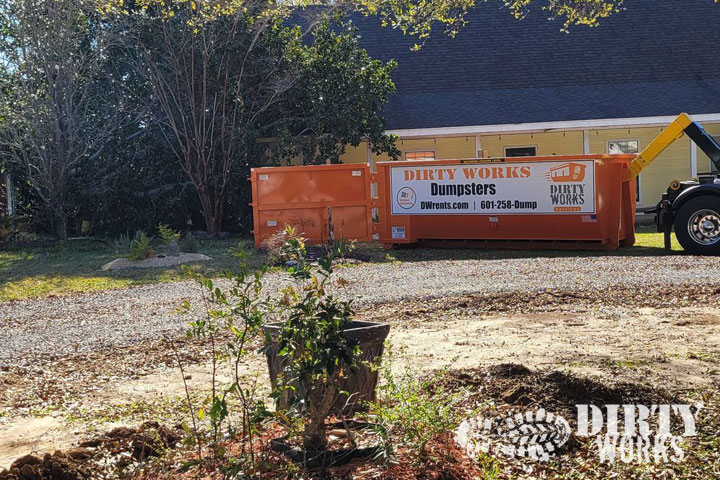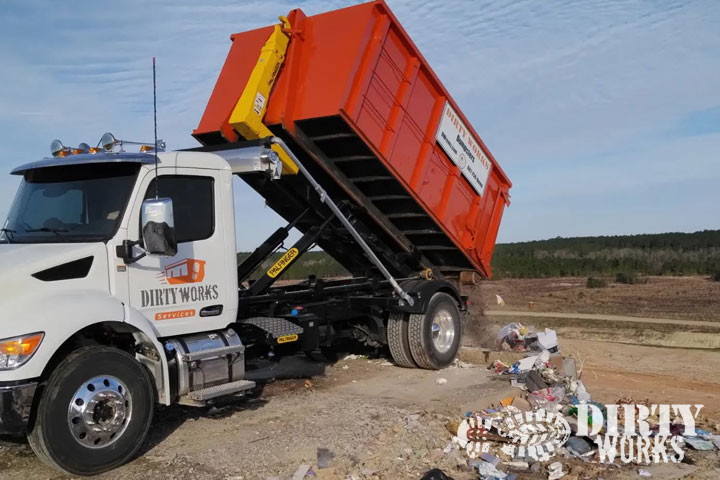 Why Choose Us for a Roll Off Dumpster Rental Gulfport MS

We know there are many options to choose from for a roll off dumpster rental Gulfport MS, but we can ensure you that none of them compare to Dirty Works. We allow you to have ease when searching for the perfect Gulfport roll off dumpster. Choosing the right company is important for the success of your project. You may think "a dumpster is just a dumpster, why does it matter?", but it's much more than that. People underestimate the power of a smooth process and great customer service during your roll off dumpster rental Gulfport process. Bad customer service, late arrivals, broken dumpsters can all hugely effect stages of progress for your project. That's why we guarantee to give you 100% of our time and dedication to ensure we stay the #1 choice for a Gulfport MS roll off dumpster rental. Our commercial grade high strength equipment and professional service is exactly why we are one step above our competition and it's what makes us the best out of all the others for a Gulfport MS roll off dumpster.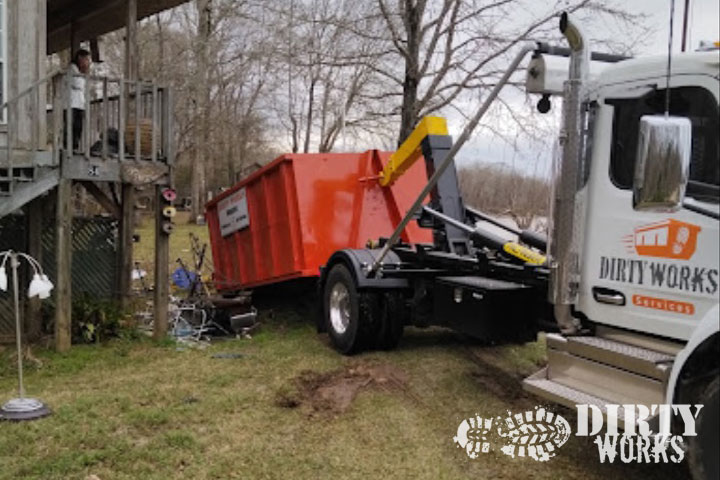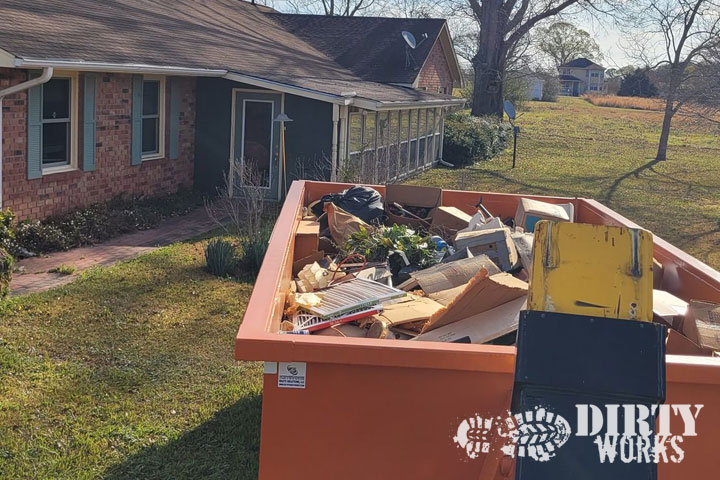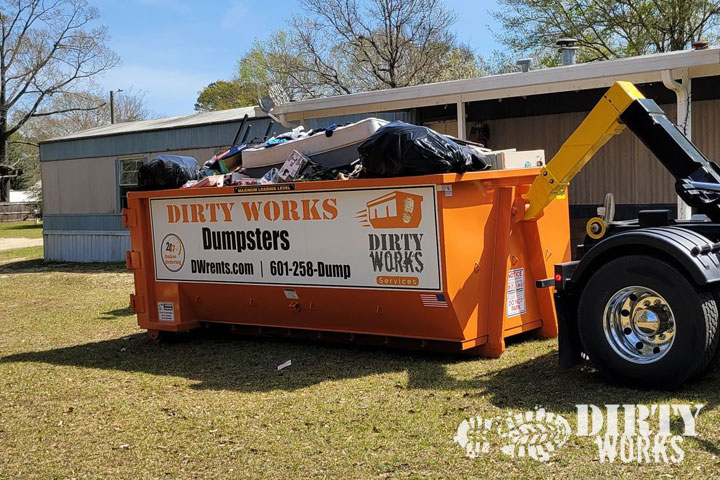 Most Trusted for a Local Gulfport Dumpster Rental Near Me

We get the job done and we do it right! Being the most trusted source for a local Gulfport dumpster rental near merequires time, commitment, and dedication. We ensure all these qualities to our customers when working with Dirty Works Dumpster Rentals. We guarantee we can find you the perfect Gulfport dumpster rentalnearbyfor any occasion you may have. Our customers love working with us because we don't just "do the job", we go above and beyond our customer's expectations!
We provide the best dumpster rental service in Gulfport MS and surrounding cities in Harrison County. If you don't see your city on our service area or below, don't hesitate to call us! We may be able to make accommodations to fit your needs. The following zip codes are typically serviced in the area being 39501, 39503 and 39507. Our trucks go just about anywhere the customers need, within reason of our service area so please call our office to speak to our dispatcher about your location if you don't see it on our website. We also service the following areas, Bay Saint Louis, Biloxi, Carriere, Columbia, Gulfport, Hattiesburg, Long Beach, Lumberton, Pass Christian, Petal, Picayune, Poplarville, Purvis, Saucier, and Wiggins.

How to Rent a Dumpster Gulfport MS Today
Things have never been easier when it comes to being able to rent a dumpster Gulfport MS today. We have a new website that is totally interactive where you can reserve all your waste management services right on our website 24/7 with a few clicks of a button using your Smartphone, PC, or Tablet. Who knew it would be this easy to book your dumpster Gulfport MS can count on?

Just click the orange "Book Now" button then the orange "Add to Cart" button. Just follow along by selecting the date you need the drop off and pick up to be for your roll off dumpster Gulfport MS. Complete your order by proceeding to checkout with entering in all the important information we need to complete the rental. Pay your deposit and digitally sign your contract. It's that easy! Our company will be in touch via email or text for your confirmations and leading up to as well as after your rental. As your delivery date draws nearer, we'll be in touch to set up a convenient delivery timeframe. We like to stay in touch to ensure everything goes off without a hitch. That's the Dirty Works promise!
Frequently Asked Questions Before Booking a Gulfport MS Dumpster Rental
Dirty Works cares about their customers and we never want you to start a project without knowing all the important Gulfport MS dumpster rental facts. We created a list of a few frequently asked questions from people who booked prior with us.These projects can be confusing but that's why we want our professionals to help you through it. It's important that you choose the right Gulfport dumpster rental servicecompany to help ensure your project is a success. Any more questions? Not a problem. Our company is here to help you with any and all questions you may have regarding a Gulfport MS dumpster rental.
Q.
What is your dumpster rental prices?
A.
Dirty Works Dumpster Rentals is committed to pricing our dumpsters affordably so that our customers don't need to break the bank just to get rid of their trash and junk. Our prices start as low as $375 and varies based on the size of the dumpster you need and length of time. We offer free delivery within our service area but may charge additional for deliveries outside. Be sure to check out our service area page for more details.
Q.
Do I need to be at home when the dumpster is delivered and picked up?
A.
Not at all. You typically don't have to be at home for dumpster deliveries or pick-ups. As long as you provide clear instructions as to where the dumpster is going, the driver should be able to figure things out. Please ensure there is nothing prohibiting access to the front of the dumpster to avoid "dry run" charges.
Q.
Is there a right way to load roll-off dumpsters?
A.
It's best to load a dumpster as evenly as possible. This will allow you to fit more debris inside and help to ensure you don't overload the dumpster. It's also important to make sure that no items hang over the side or stick up over the top of the container, since this can make it dangerous for the hauler to pick up the dumpster. Please note that you may be charged an additional fee if your container is overfilled.
Q.
What items are not allowed in my dumpster rental?
A.
We take just about anything off your hands for you, but there are certain items that are potentially dangerous and need to stay out of our local landfills. We care about our customers, employees, and environment which is why we adhere to hazardous waste precautions and prohibit the following items from entering our bins: batteries, tires, chemicals, paints, oils, gas, propane, and other hazardous chemicals and items. If you have questions regarding what we can and cannot accept, please call us at (601) 258-3867 for more information.
We Take Just About Everything
Some examples of the junk we haul away include
Refrigerator Disposal

Garbage Removal

Mattress Disposal

Foreclosure Clean Outs
Construction Waste Removal

Yard Waste Removal

Trash Removal

Appliance Removal
Television Disposal & Recycling

Furniture Removal

E-Waste Disposal

Hot Tub Disposal
Testimonials from Happy Customers for Gulfport Dumpsters Near Me
With many of happy customers since starting our company, we just like to brag and share to others why we are a 5-star locally owned and operated company right here near the Gulf Coast. Our customers love us, and we sure do enjoy providing our services for dumpster rentals in Gulfport MS. See below why so many continue to use us for their Gulfport dumpsters or when searching for local dumpsters near me in the area. Click here to see where our office is in relation to Gulfport, Mississippi.